Murakami Kaizoku was the ancient navy playing the significant roles mainly in the areas of the West Seto Inland Sea from the Muromachi to the Sengoku period (approx.1338-1590). There are many resided castle ruins of the Innoshima Murakami clan in Innoshima.
Those castles were constructed on the top of the mountain to watch the islands and to monitor the passing boats. At present, the castles as a whole do not remain, but through Kirigishi (artificially created steep cliff) and flattened grounds, it can provoke our imagination of that time.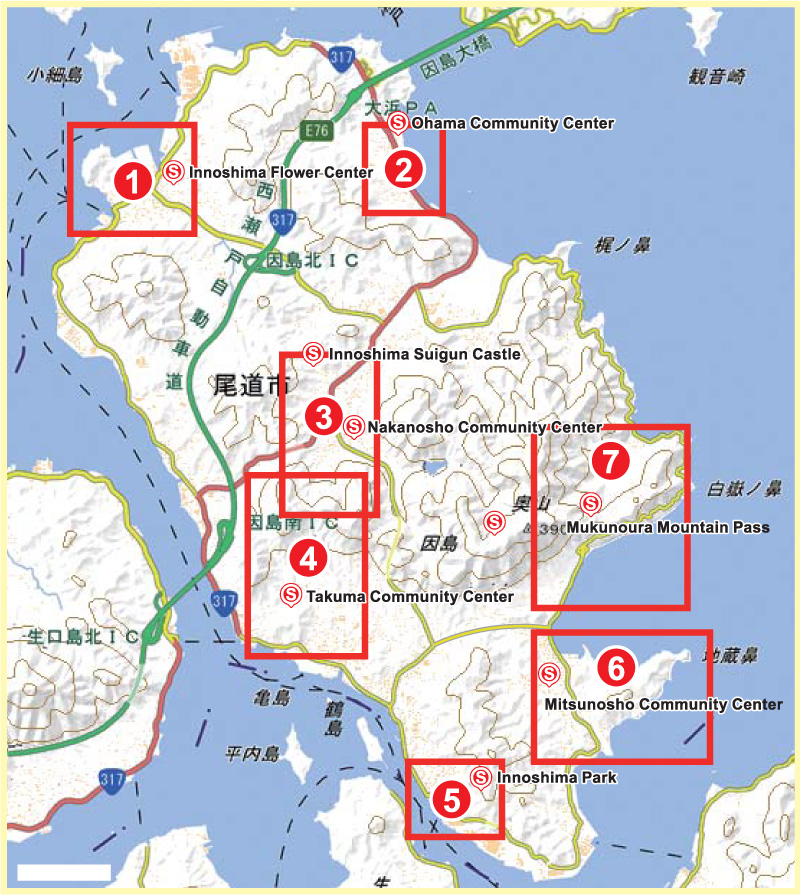 Difficulty Level of Route
Warning
This map was created for sightseeing the ruins of Innnoshima Murakami Kaizoku. Therefore, the routes include partly the old roads and the mountain roads, which were used in those days. You have to walk in the mountains with your responsibility and the map should be used only as a reference. No guarantee is assured in case of any accident occurred.
Source/Reference
Source: Geospatial Information Authority of Japan website https://maps.gsi.go.jp The map was made by the Murakami Kaizoku Innoshima Promotion Committee in accordance with the map on the website of the Geospatial Information Authority of Japan.
Reference: Innoshima Shiko Publisher: Innoshima shi Bunkazai Association
Reference: "The Island of Legends and Romances – The Story of The Innoshima Castle Ruins" (Panel Collections)
Link for A Detail
About Murakami Kaizokku
Japan heritage Murakami Kaizoku
http://murakami-kaizoku.com/themes/culture/
About sightseeing and events information
Innoshima Sightseeing Association
https://kanko-innoshima.jp/
About food and hotels
Innoshima Gourmet Map
http://map.in-no-shima.jp/gourmet/
About Innoshima Suigun Festival
Innoshima Suigun Festival
http://0845.boo.jp/suigun/